CBD Tinctures Have Bioavailability for Healing
"CBD tinctures have bioavailability for your health and healing, and it is for sale today in a place near you." It used to be that you would have to search to find a brick-and-mortar hemp shop but not today.  Hemp shops keep springing up with more and more creative hemp products and options. This is good for everyone because we all want to be healthy and stay healthy.  These full spectrum CBD tinctures are one of the best methods to dose considering convenience, bioavailability and flavor.
Prices — Very Lowest
Hemp Products — Best Variety

Hemp Flower Choices — High Quality
Customer Service — Most Efficient
Dr. Strains CBD Strikes Gold with Hemp Flower
THC-O Sour Jack Hemp Flower
The THC-O Sour Jack flower has finally arrived all coated with THC-O distillate to give you an extra punch during your smoking experience!  The powerful strain, Sour Jack, combines these two sativa-dominant parents to create a potent hemp flower that impacts both the mind and body.  The effects are lively and energetic, lifting away fatigue and tension to pave the way for supreme effects that increase motivation and productivity.  Try it out today! Get an 8th of this premium.
King Palm CBD+CBG Pre Roll
If you're looking to try CBG flower, try our newest King Palm CBD+CBG Pre Roll brought to you by Dr. Hemp. This King Palm CBD+CBG Pre Roll is slow burning. Squeeze the filter to unleash a flavorful berry blast. King palm wraps are 100% natural and contain zero nicotine.  Each pre roll contains 1 gram, each pack contains 2 pre rolls. These are particularly potent with two of the best cannabinoids in hemp in them — CBD and CBG. And they are on sale @ $4.99!
TABLE of CONTENTS
Up and Down the Tincture
Breaking Down Bioavailability
Let's Be Healthy
"Round Up All the Facts"
Strains Reference Post
Strains Product Promotions
CBD Tinctures Have Bioavailability – Up and Down the Tincture
CBD tincture arrives 2nd fastest with the first being smokable hemp or vaping. When a medicine is placed under your tongue it diffuses through the mucous membranes beneath your tongue. There are a host of capillaries sublingually, so the medicine has a more direct route into your bloodstream.  Oral CBD such as liquid drops, capsules, tinctures, foods, and beverages may be among the most popular delivery methods for CBD, but it has the lowest bioavailability of all forms at between 6 to19% because it is fat-soluble which makes it a challenge for the body to absorb.
Digestive acids and enzymes may destroy part of the CBD taken orally before it has a chance to be absorbed. Peak levels of oral CBD tend to be lower than other delivery forms.  Oral CBD does have a longer duration in the body or the "mean residence time". CBD has also been found to lead to higher brain levels when compared to inhalation methods.
All About the 1st Pass
The 1st pass effect or 1st pass metabolism refers to drug metabolism if that drug is consumed orally. This also applies to CBD consumption even though not referred to as a drug. When CBD is consumed orally, its potency is greatly reduced before it reaches your systemic circulation. Part of the potency is lost during the digestive system process and part is absorbed in the liver and gut wall.
When a drug is swallowed, it is absorbed by the digestive system then through the hepatic portal and is carried through the portal vein to the liver.  With some drugs, by the time it leaves the liver, there is only a small amount of the potency remaining. Where CBD does its work is when it reaches your circulatory system and meets up with the Endocannabinoid System (ECS). The 1st pass through the liver in any case greatly reduces the bioavailability of the drug or in this incidence we are talking about CBD.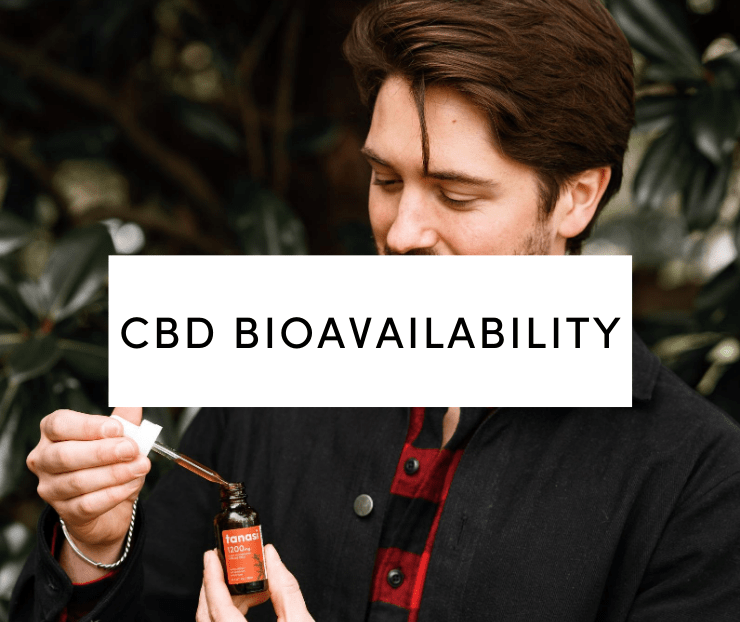 CBD Tinctures Have Bioavailability – Breaking Down Bioavailability
There are two ways to improve the bioavailability rate.  One way to improve the bioavailability rate is to consume CBD sublingually that way it enters the metabolic system via the sublingual gland under the tongue. The CBD can be delivered in this manner with oil, tincture, spray or lozenge so that it can impact the body more quickly and effectively.
The second way to ingest CBD with the highest bioavailability is to eat it with foods that enhance bioavailability. A small study done at a University lab suggests that fatty acids taken with the CBD increase its bioavailability because they act as binding agents meaning that the dose of CBD is able to attach to them and be metabolized effectively into energy.
CBD Tinctures Have Bioavailability Considering Mucous Membrane vs Digestive System
Because there is so much mucous membrane in our mouth that CBD tinctures and gummies are a particularly effective way to dose and have quicker bioavailability.  The mucous membrane better transports the CBD to the blood stream where it then meets up with the Endocannabinoid System (ECS).  When the hemp tincture has to go through your digestive system then the potency is depleted because of the 1st pass.  It is also much slower for you to feel the effects.

CBD Tinctures Have Bioavailability – Let's Be Healthy
Many ask about the usefulness if you are healthy without chronic conditions like pain, anxiety or insomnia among others.  The are individuals who smoke or dry vape hemp products simply because they enjoy it.  Even so, you will derive benefits.  The only thing is that CBD among other hemp cannabinoids and terpenes are instrumental in boosting your immune system.  CBD is particularly effective in quieting the immune system when a new virus is introduced to your body.  As your immune system is searching for a way to combat the new virus, it often gets confused and start fighting itself. CBD calms the rioting in your immune system.
"Round Up All the Facts"
CBD sublingual tinctures have shown their effectiveness and the speed almost to equal pulmonary administration when you smoke or dry vape. It may not be the most convenient as it is in a little glass bottle, and it is liquid.  However, the manner of dose measurement is easy with a simple dropperful.  The flavors added now to the hemp tincture are delightful and make it more palatable for sure. Also remember that the potency is better when you take it sublingually.
Dr. Strains CBD Reference Post
CBD For Sale in Florida – The Gummies of it All
The Perfect 6 – CBD Flower for Mental Memory Thoughts
Dr. Strains CBD Product Promotions
Looking for ways to ingest CBD without smoking? 
We now have new 1000mg CBD tinctures that you can use daily for fast relief for your discomfort. Our 1000mg CBD tinctures come in different flavors:
Peppermint
Cinnamon
Natural
Raspberry
Looking for more ways to ingest CBD without smoking?  We now have new 1000mg and 2500 mg CBD tinctures that you can use daily for fast relief for your discomfort.
Dr. Strains CBD only sources its CBD bud from small hemp farms. We purchase all our CBD hemp flower from these small hemp farms because of the extra attention and care that they indulge on each hemp plant that they grow.  This type of care makes for a more precisely trimmed flower nug as well as better cannabinoid and terpene profiles. These are the hemp flower nugs that Dr. Strains CBD keeps in their inventory.  Check out our online shop or contact us for more information and to read more blogs, click here.