Considerations of the Timeline of the Rise and Fall and Rise of Hemp
"The rise and fall and rise of hemp include a long history of use as a medicine, for all types of fiber and a wide range of clothing."  Hemp is a fascinating plant and has impacted history for many decades even when it was illegal. It is a versatile plant and an environmentally sustainable crop debut. It has been the lifeline for farmers who switched to hemp rather than corn and wheat crops because there was more demand and more profit.
The timeline is interesting because it shows the roller coaster ride through the annals of legislation. Wartime needed hemp to make all the additional supplies, so the legislature legalized it.  After the war they made it illegal again.  Between the law makers, law enforcement and the regulators at the FDA, they just could not see how hemp was not like the other branch of cannabis – marijuana.  It is sad to think that so many people missed out on the many health benefits because some bureaucrats couldn't take up a research paper and find out the truth.  But hemp survived through it all and today it is legal, and it is in high demand even by the medical profession.
Dr. Strains CBD Excites Hemp Flower Specials
Space Candy D8 Flower
Our Space Candy D8 flower deserves a try no later than today!  Here is the reason. The Space Candy not only is Infused with Delta 8, but it also has 10% CBD along with less than 1% of CBN and CBG. You are probably asking why this is important since the percentage is so low.
CBG is a cannabinoid that is quickly reaching the status of CBD with health benefits. These include its effects on pain and is proving itself to be an anti-bacterial agent and an anti-inflammatory proponent.
Presenting the best CBD flower also focuses on the terpene profile which provides results in enhanced effects on the customer.  Then on top of that, it gets an exquisite infusion of Delta 8 THC that gives additional protection from neurodegenerative diseases.  Try a 1/2 oz of our medium size buds now for only $31.99 and experience those effects for yourself.
Orange Glaze Delta 8
Orange Glaze Delta 8 is a strain of CBD flower that is known for its distinct orange aroma and flavor. This Orange Glaze CBD flower is often used for its relaxing and stress-reducing effects. The orange aroma of this strain is often described as being sweet and citrusy, with notes of pine and earth. The flavor is similar, with a combination of sweet citrus and earthy undertones. Get yourself something this holiday season without breaking the bank.
TABLE of CONTENTS
The BC Years
The AD Years
1492 and Beyond, Brings Hemp to America
Things Changed for Hemp in the 1800's & 1990's
The New Millennium
Strains CBD Reference Post
Strains CBD Product Promotions
Timeline of the Rise and Fall and Rise of Hemp — The BC Years
8,000 BC – Starting in this date, hemp became one of the first cultivated agricultural crops and continued to hold that title as civilizations continued to start their hemp acreage. Before long, the villagers in these areas started using hemp cord in their pottery as well as other uses.
6,000 – 4,000 BC – Now we move on to the future years where we see hemp seeds and oil being consumed as food in ancient China and also used to make textiles throughout China and Turkestan.
1,200 BC – Now hemp reaches its arms into Europe and from there spreads across the ancient world which includes the first paper made completely from hemp.
Timeline of the Rise and Fall and Rise of Hemp — The AD Years
23 – 70 AD – Now we come to the time of hemp being recognized for its medicinal properties so much so as to be written in medical texts of The Natural History and Pharmacopoeia.
1000 – Then as the shipping routes multiplied, they needed ropes and canvases to use on the ships. Italian ships were the first to discover the utility of the hemp fiber and the fact that it was particularly resistant to the beating that salt water gave.
Timeline of the Rise and Fall and Rise of Hemp — 1492 and Beyond, Brings Hemp to America
1492 — Christopher Columbus voyages to the shores of North America bringing a time to prove the strength of the hemp fiber as hemp rope and canvas better defy the effects of salt water at sea.
1606 – Then something new happened when a French botanist and apothecary Louis Herbert plants the first hemp crop in North America through
1607. Then hemp continued its popularity in Jamestown, the first British colony. The officials asked the colonists to grow hemp to send back to England.  Throughout the 1700s the American colonies sold hemp textiles to France to make enough money to buy weapons for the Revolutionary War.  Thomas Jefferson drafted the Declaration of Independence on hemp paper. During these years, George Washington and Thomas Jefferson grew hemp on their respective farms and plantations.  Then the early Americans began setting up a monetary system. They found another use for hemp to make currency.
Timeline of the Rise and Fall and Rise of Hemp — Things Changed for Hemp in the 1800's to the 1990's
Yes, they did change as cannabis hemp plantations flourished across North America, in areas including Mississippi, Georgia, Nebraska, South Carolina, Kentucky and New York.   In late 1800s, the chief botanist for the USDA began growing hemp varieties and for the purpose of doing extensive researching hemp cultivation techniques.
By the early 1900s, researchers claimed that more than 25,000 different products could be made from hemp. It was then that they christened it the "Billion Dollar Crop." Mid-1940s, the United States Army launched a "Hemp for Victory" campaign as a program to start encouraging farmer to plant hemp and cultivate hundreds of thousands of acreages to help support the war effort.
Now skipping to the 1970s, The Controlled Substances Act classifies hemp as an illegal Schedule I drug, imposing strict regulations on its cultivation. This hit the agriculture right in the heart as the acreages grew rapidly for good reason because of the high demand.  In the late 1980s Manitoba Harvest came into existence and began growing the manufacturing and exporting of hemp foods.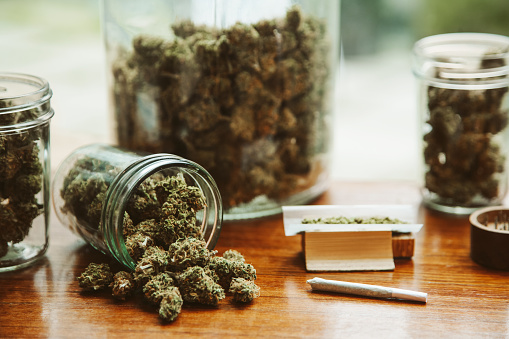 Timeline of the Rise and Fall and Rise of Hemp — The New Millennium
Good news came in 2014 again when President Barack Obama signed the 2014 Farm Bill, permitting U.S. research institutions to start piloting hemp farming for research purposes.  Now the cultivators began cross breeding hemp flower strains in order to have as many strains as possible when hemp once again was legal on a federal basis.
Timeline of the Rise and Fall and Rise of Hemp in 2018
In 2018, that happened when President Donald Trump signed the 2018 Farm Bill.  Legalizing hemp production, sale and distribution across the United States on a Federal basis because a reality. From that moment, hemp growth exploded from the Pacific Ocean to the Atlantic.  There were new hybrid strains being created with even better cannabinoid profiles and terpenes profiles. Those who were using marijuana for the health benefits or recreationally but despised the psychoactive element of it, now had an alternate choice.
This was a great time in America because of the release of a great product.  This product brought health to so many who had struggled for years with pain, anxiety, insomnia and so much more. Farmers were blessed with a product that brought in more revenue than corn and wheat. Vendors were granted a new stream of revenue. Breeders were in their hay day of creating more and better hemp flower strains with better profiles.
Dr. Strains CBD Reference Post
ON TOUR: CBD Hemp Flower in California
Dr. Strains CBD Product Promotions
Performance Gummies
Is your sex life good? Well, Performance Gummies can make it even better.  Maybe you come home after work, and you're tired and stressed. You think about the big meeting or your bills or the next after-school activity you have to drag the kids to, and it all just kills the mood. You think about your partner but end up watching some television or eating some chips and then falling asleep at 8 p.m. Sure, your sex life is good, but it could be better.  You need better sex. More importantly, you need Better Sex Enhancement Gummies available for both men and women.
THC-O Moon Rocks
Looking to blast off to the Moon? Now featuring THC-O Moon Rocks. These THC-O Moon Rocks are out of this world! Starting with Fruit Loops flower, the flower is rolled in THC-O distillate then dusted with both THC-O AND D8 kief. These Moon rocks are a strong Indica, so we recommend using at night.  After breaking these Moon Rocks down, you'll instantly be welcomed by a sweet fruity fragrance. The taste is sweet like fruit on the inhale, but floral on the exhale. Users have reported having a complete euphoric body relaxation. Also assisting in pain management, as well as anxiety.
When first consuming THC-O treated hemp flower strains, we recommend you begin low and slow. Keep in mind that THC-O effects can be delayed by as much as one hour.  Because of this it is best you to practice patience and allow the full effects to take hold before taking another hit. 
Dr. Strains CBD only sources its CBD bud from small hemp farms. We purchase all our CBD hemp flower from these small hemp farms because of the extra attention and care that they indulge on each hemp plant that they grow.  This type of care makes for a more precisely trimmed flower nug as well as better cannabinoid and terpene profiles.  Check out our online shop or contact us for more information.