Crossing Barriers with CBD Flowers to Delta 8 Flower Creations
"CBD flowers to Delta 8 Flower creations is about all the elements of the hemp plant in its entirety and what they do for you." The medical profession usually does not usually place of stamp of approval on alternative solutions to medical conditions. But it is different with hemp to the point the pharmaceutical has made a drug using Charlotte's Web strain of hemp flower.
This CBD hemp flower comparison chronicles VI includes some little-known names just to familiarize you with all aspects of the hemp flower strain possibilities. No one can tell you the exact strain that is the best for you because you will enjoy the savors which are particularly suited to you. Smoking or vaping hemp flower is about the savorful experience you are looking for, but it is also about the health benefits you want to enjoy as well.
Dr. Strains CBD Celebrates Hemp Flower Specials
Cannibeast HHC Noire Disposables!
Are you a fan of Rock & Roll? Or are you a fan of spooky things? Well, these Cannibeast HHC Noire Disposables may be for you! Our friends at Cannibeast always come through with not only top of the line artwork, but top of the lines flavors. Packed full of terpenes, each hit is guaranteed most flavorful then any before the last. Each package comes with a QR code that gives you an authentic product lab result.  Cannibeast HHC Noire Disposables come in six strains:
Black Panther Lemondade – Indica
Dr. Diesel – Hybrid
Granddaddy Purple – Hybrid
Jack Herer – Sativa
Laughing Buddha – Sativa
Zkittlez – Indica
Lemon Runtz CBD
The Lemon Runtz CBD is a Sativa dominant hybrid that brings you calming yet uplifting euphoric effects.  Lemon Runtz has a beautiful herbal sweet smell with an underlying hint of black pepper which you'll be able to taste after the initial fruity flavor. Best of all it is On Sale!  This is a flower that you must take a look at.
TABLE of CONTENTS
White Whale CBG Hemp Flower Strain
The Delta 8 of it All
Papaya Nights Hemp Flower Strain
Strains Reference Post
Strains Product Promotions
CBD flowers to Delta 8 flower creations is more about seeing the difference rather than predicting which will better suit your fancy. When you go to Dr. Strains CBD, you can have the assurance that every flower is grown, trimmed and presented with all the best a CBD flower can offer. There are no short cuts to just get flowers into their inventory. No, hemp flower strains are purchased from small farm because we know they give individualized care to each planting.
CBD hemp delta 8 flower is one of the hottest products on the market in the hemp community as it heightens the experience from every angle.  Those who use Delta 8 flower for recreational purposes are never disappointed with the high that is non-psychoactive but still gives a buzz. For those looking for health benefits, the Delta 8 flower goes to the next level with neuroprotective properties to ward off neurodegenerative conditions.
CBD Flowers to Delta 8 Flower Creations — White Whale CBG 
White Whale CBG hemp flower is tagged by many as "The Mother of Cannabinoids". Do you know why? If a hemp flower is allowed to go to full maturity, the CBG converts into CBN, CBC or CBD.  The hemp flower must be harvested early in order to preserve the CBG cannabinoid.  CBD flower white out brings to you the White Whale strain, a sure-fire favorite.
The light green buds are covered with frosty trichomes that proves the name of White Whale. This strain has a light citrus taste and provides a relaxed stress-free feeling after a smoke. Without doubt it is a top shelf CBD hemp flower. CBD flowers to Delta 8 flower creations top the list all day long for effects and for benefits. You want a buzz at the end of your stressful day? Well, Delta 8 gives that to you and the white whale CBG flower gives you relaxation and a way to decompress.
Growers across the United State nurture this strain which is rich in terpenes and includes all the entourage of effects. White Whale CBG buds test between 13 – 18% CBD content and always with less than 0.3% THC.  Frosty white trichomes provide a potent citrusy aroma that also provokes a relaxed experience. Wind down into the weekend with White Whale CBG Flower.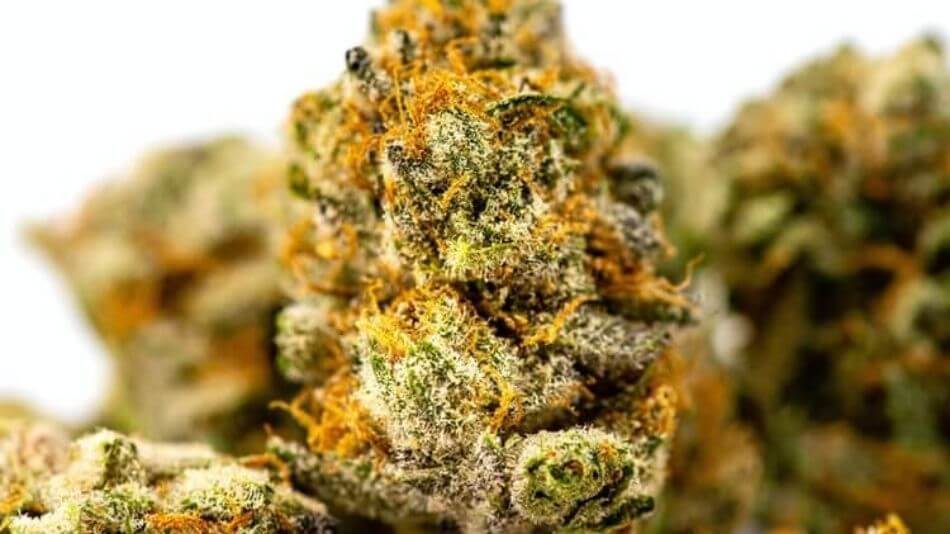 CBD Flowers to Delta 8 Creations – The Delta 8 of it All
The Delta 8 hemp flower starts with any strain of hemp flower that the vendor wants to use. However, however there are some characteristics the hemp flower strain should have to make the best creation.  It should sturdy and with a dense bud so that it holds up under the processing. Since the Delta 8 distillate darkens the hemp flower in color, it is best to choose a flower that is a light green color, so it does not darken to an undesirable color. When the hemp flower is sprayed with Delta 8, it takes on a frosty look before it is rolled in kief for the final process.  Dr. Strains CBD has these Delta 8 Hemp flowers:
Every one of these Delta 8 flower creations are astounding for effects and for benefits. Many are switching from Delta 9 marijuana because the effects are so much better with Delta 8 without the psychoactive effects nor the paranoia aftermath.
CBD Flowers to Delta 8 Flower Creations – Papaya Nights
Papaya Nights is not only a beautiful flower but also stands at a strong 17% to 19.7% CBD and a total 21.5% cannabinoids. It is a sativa flower with uplifting effects. Papaya Nights is generally grown in Oregon, but the cultivars prefer growing this hemp strain indoors.  These CBD flowers are 100% hand trimmed so it is a meticulously attractive flower. Papaya Nights is 3rd party lab-tested and 100% organic with no additives. The bud is bright green and very sticky with trichomes.
Savors
Terpenes which are present in the hemp flower lend themselves to the aroma and the flavor.  The Papaya Nights, the dominant savors are
Ripe Fruit,
Juice,
Haze,
Earth,
Sativa-Uplift,
Indoor Grown
Therapeutics
Papaya Nights is one of the high- CBD content hemp flower so the therapeutics are strong in particular areas. Those therapeutics for Papaya Nights are relief from pain and inflammation. These two things are directly connected to any type of arthritis at any age. Inflammation is one of the main traumas that happen in our bodies, and it subsequently causes disease, infections and a lot of pain.
Dr. Strains Reference Post
The Entourage Effect of Full-Spectrum Hemp Will Amaze You
Dr. Strains Product Promotions
D9/CBD Gummies
Our 25mg Delta 9 THC / 25mg CBD gummies deliver a calming body sensation. Comes in a 400mg pack with 8 pieces containing 25mg each of D9 and 25mg of CBD. These edibles are very strong, and we recommend reading the label for dosage amounts and to start slow.  All of our products come from farmers who run smaller operations. We've made this business decision for one reason and one reason only, QUALITY.
King Palm CBD+CBG Pre Roll
If you're looking to try CBG flower, try our newest King Palm CBD+CBG Pre Roll brought to you by Dr. Hemp. This King Palm CBD+CBG Pre Roll is slow burning. Squeeze the filter to unleash a flavorful berry blast. King palm wraps are 100% natural, and contain zero nicotine.  Each pre roll contains 1 gram, each pack contains 2 pre rolls. These are particularly potent with two of the best cannabinoids in hemp in them — CBD and CBG. And they are on sale @ $4.99!
Dr. Strains CBD only sources its CBD bud from small hemp farms. We purchase all our CBD hemp flower from these small hemp farms because of the extra attention and care that they indulge on each hemp plant that they grow.  This type of care makes for a more precisely trimmed flower nug as well as better cannabinoid and terpene profiles.  Check out our online shop or contact us for more information and to read more blog posts click here.