Determining the Distance From Hemp Flower to Delta 10 Cart Option
"Determining the distance from hemp flower to Delta 10 cart option involves a process but the truth is that is always starts in a field of hemp plants growing and maturing." Many of these trace cannabinoids can also be reconstructed to be a synthetic cannabinoid.  The synthetic cannabinoids have proven to be just as effective as coming directly from the hemp plant. Since Delta 10 is a trace cannabinoid, the Delta 10 has to be stripped from multiple hemp flowers. But there are some who prefer having their Delta 10 straight from the hemp plant rather than the synthetic brand. Delta 10 carts are pre-filled already to use in your vape pen. They for a disposable vape that renders an energetic buzz.
Dr. Strains CBD Electrifies with Hemp Flower Sales
Indoor Wedding Cake D8 Flower
This indoor Wedding Cake D8 flower has a sweet and earthy aroma. With over 23% delta 8 this flower should leave you feeling relaxed with a clear active mind.  Wedding Cake is packed with 20% CBD and is packed with a mixture of natural terpene profiles. This indoor flower aims to leave you anxiety-free with a clear mind!  This flower has a tight trim and packed with trichomes! Wedding cake is originated in California and is a cross of Cherry Pie and Girl Scout Cookies which are known for its Indica effects.
Sour Suver Haze D8 Flower
Our Sour Suver haze D8 has an incredible nose and is smooth sweet and subtle to smoke. Filled with an array of trichomes that could light up the night sky!  All of our products come from farmers who run smaller operations. We've made this business decision for one reason and one reason only, QUALITY. This is another reason all the hemp products you need, you will find at your local CBD store, Dr. Strains CBD.
From Hemp Flower to Delta 10 Cart Option — What They Are All About
Delta-10, like regular Delta 9 THC, can get you high, but with less potency so similar to Delta 8.  Delta 10 gives an option for those who enjoy a modified high but do not want what Delta 9 THC high is like. This Delta sibling presents a new option to get a blasting chill of a vape in the Cart device. Users report that this Delta 10 cart is an absolute cannabinoid that gives novel altitude in the recreation venue. The pre-filled Delta 10 vape carts tops the list for convenience and also come in a range of essences and strains.
From hemp flower to Delta 10 cart option will lead you to a product of convenience and something easy to use without any encumbrances. The Delta 10 cart fits nicely in a vape pen and you are ready to go.  The other good thing is that some are unable to tolerate the burnt effect of smoking a hemp pre-roll so vaping is a better option for them.  Vaping is usually considered to be easier on the respiratory system.
From Hemp Flower to Delta 10 Cart Option — Quality and Safety is First
There has been controversy of the safety of the oil distillate used to vape with.  Some vendors try to cut corners in making distillate and put additives in it that will cause harm to your lungs.  Always be careful of the vendor you purchase your Delta 10 distillate for your cart.  Dr. Strains CBD upholds high quality for safety.  This means that safety and quality are crucial considerations then you can have an exciting and refreshing vape experience with your friends around the pool. The Delta 10 can provide uplifting effects, a variety of flavors, and an easily held design. Choose tested carts rather than buying off the Black Market; mind carefully the dosage to consume then you can have fun with it. 
Dr. Strains CBD Product Promotions
Green Crack Hemp Flower
This Green Crack hemp flower features a strong gassy mango with citric overtones, accompanied by pine and pepper undertones. Green Crack Hemp Flower is ideal for daytime use as well as for people with low tolerance levels. We are excited about this one!  This green crack isn't wack, but it is 40% Indica / 60% Sativa
17.5% CBD
Green Crack x California Orange CBD Cross
Lab Tested for Potency
All products contain less than 0.3% Δ9THC
Grown in accordance with a lawful hemp program.
CBD Isolate Roll-On Option
This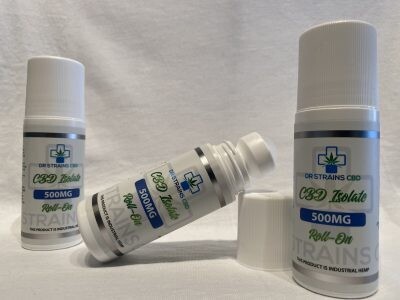 product is a CBD Isolate Roll-On so it is pure CBD without any other cannabinoid or terpene.  This was the first topical I used and even though I usually do not use Isolate products, I was very pleased with my pain relieve.  A perfect way to target a
specific pain area is by using a CBD roll-on.  Dr. Strains is now offering a 500mg and 2500mg CBD roll-on! This roll-on provides a warm sensation and can be easily applied while keeping your hands clean and away from the product
Dr. Strains CBD only sources its CBD bud from small hemp farms. We purchase all our CBD hemp flower from these small hemp farms because of the extra attention and care that they indulge on each hemp plant that they grow.  This type of care makes for a more precisely trimmed flower nug as well as better cannabinoid and terpene profiles.  Check out our online shop or contact us for more information and to read more blogs, click here.