What You Did Not Know About the Dry Vape of Hemp Flowers
"About the dry vape of hemp flowers is something to consider if you have sensitive respiratory challenges or you want to enjoy without the aroma escaping to those you're around."
Dr. Strains CBD Hails Summer with Hemp Specials
Sour Space Candy
Space Candy is a great starter strain. Smells slightly earthy and sweet. With a smooth but subtly smoke it releases its user stressors.  Oregon grown; Sour Space Candy hemp flower is a CBD-dominant cultivar that crosses include Sour Tsunami.
$20.99
Funk Diesel Hemp Flower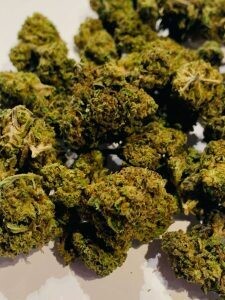 Welcome in our newest premium strain, Funk Diesel!  This indoor grown strain features notes of cinnamon, cloves, and earth. Funk Diesel instantly brings to mind bear claws, cinnamon rolls, and high-octane diesel! If it were to be named based on it's flavor profile, we'd have to call it Bearclaw Kush! It's a smooth and velvety smoke whose sweetness lingers almost daring you to take another toke. Our resident puffers all agree that this might be the best tasting hemp they've ever smoked!
$42.99
TABLE of CONTENTS
Better for Your Lungs
More Flavorful
Preferred by Doctors
The Bottom Line
Dr. Strains CBD Feature Post
Dr. Strains CBD Product Promotions
CBD flower dry vape, though not as common as smoking, it is gaining popularity because there are advantages that smoking does not have. For those who react badly to the "burning effect" on the lungs when smoking CBD flower, the CBD flower dry vape is the answer.  Vaping is not as much of an irritant because "the burning" does not happen when vaping. The hemp flower is merely "vaporized" rather than "burnt".
About the Dry Vape of Hemp Flowers — Better for Your Lungs
Dry vaping CBD flower may be more expensive but dry vaping is better for your lungs.  The dry vape experience is not as convenient as a vape cartridge, but it is more discreet because of a lack of odor for those around you. These are a couple of pieces of special equipment you will need.
You have to grind up the bud or flower in order to dry vape it so an herb grinder is needed costing around $15.
You also have to have a vaporizer especially for dry herb. A decent one will run you about $79 – $99.
About the Dry Vape of Hemp Flowers — More Flavorful
If you have chosen CBD hemp flower dry vape option, then be sure and examine the hemp flower for fine drops of resin on the tiny leaves. This assures that you will be in for a more "zen flavorful" experience. Study the smells that the hemp flower is known for, then you will know what to expect in your dry vape experience or even better. Sometimes the vape experience has even a broader profile of savors.
CBD hemp flower dry vape is pure experience without a harsh or funny taste but rather a full, intricate combination of savors. It is true that the savors are endlessly varied and intricate from strain to strain.
About the Dry Vape of Hemp Flowers – Preferred by Doctors
Most doctors will tell you that if you have any type of breathing or lung compromises, sending something burned through your lungs might not be the best. So, for another option for those who want to know all the possible ways to gain benefits of the CBD flower, let us look at Dry Herb Vape.
Dry Herb Vaporizers are different from concentrate vaporizers which use vape juice. The advantage of vaping is that you can enjoy the health benefits without burning your herbs and do it more discreetly as well.
The Dry Herb Vape is a vaporizer which only vaporizes dry herbs. The device holds dry herbs within a small inner chamber inside the device. At the time you power on the Dry Herb Vaporizer, it heats up an inner chamber. This is the beginning of the vaping process. The temperature will increase until it is high enough for the active ingredients in the chamber to release a vapor.  This vapor can then be inhaled.
Dr. Strains CBD FEATURE POST
SPOTLIGHT FEATURE – Hemp Terpene Caryophyllene
Dr. Strains CBD Product Promotions
Your favorite snacks just got infused! A new and yummy way to eat your D8 is in a 250mg D8 Cereal. Our 250mg D8 Cereal comes in an assortment of flavors such as:
Cocoa Smacks
Stoney Jacks
Tiger Bites
Chocolate Balls
Fruity Nuggs
Rainbow Rings
Fruitti Rocks
Berry Boss
Cookie Cat Crunch
CBD/Delta 9 Gummies
Introducing Hemp compliant Delta 9 THC gummies!  With a variety pack featuring these five flavors Pineapple, Strawberry, Green Apple, Blue Raspberry and Blackberry.  Since it's exactly the same cannabinoid as in ordinary cannabis, it has exactly the same effects. The only difference is the amount of an edible you'd have to consume to get an equivalent dose.  These hemp derived gummies have12 mg of CBD, 12mg d9 for a total of 24mg each edible.  Get a pack of gummies (5 count) for $23.99.
Meet CBN/HHC Gummies
Looking for a sleep aid CBN may be the solution for you. CBN is commonly used to help promote falling and staying asleep. Our edible gummies have CBN and HHC to allow the entourage effect to occur which makes the effects of CBN to work better and longer.